Click here to view promotional slide show for Ronneal's book: Girlstrong! A Spiritual Journey of Growing and Reconnecting with Our Daughters.
girlSTRONG books: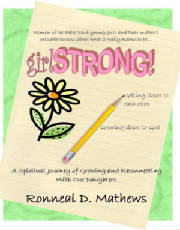 The mother/daughter relationship is one of the most sacred and precious bonds ever created. However, there are constant assaults on the ability of mothers and daughters to develop deep, meaningful relationships. girlSTRONG! is a real treasure that helps mothers and daughters take an in depth spiritual journey of reconnecting with one another.

In this truly inspiring project, first time author, Ronneal D. Mathews, utilizes the stories of Biblical women to motivate African American women and girls to recognize their unique strength and learn life lessons that will change the way they think about their place in the world. Mothers and daughters are encouraged not to attempt to duplicate the strength of men, but to embrace the beautiful God-given strength that is all their own.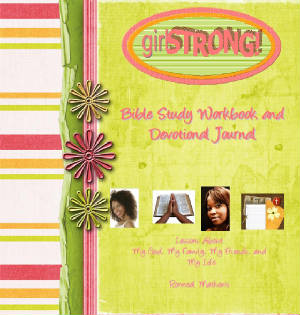 ALSO
Get cool girlSTRONG! products at our e-store! We have t-shirts, hats, stickers, and more!
This is just an example of some of the items you can purchase....